Rihanna has finally been confronted about her love of stealing wine glasses
Question - You've just ordered a round of drinks at the bar when your friends tell you they want to move onto the next club and to grab your coat.
Do you:
A) Down your vodka and coke, grab your clutch bag and shimmy on out the door?

B) Tell your friends to wait and slowly sip on your ice-cold beverage to make a point that you're in no rush?

C) Do a 'RiRi' and carry that glass straight out of the club with you?
On Friday, Rihanna explained her tendency to accessorise evening looks with a glass of wine on entering and exiting a bar, hotel, restaurant, catwalk show etc.
During an interview on BBC One's The Graham Norton Show, the host flashed a photo of the 30-year-old singer walking out of a club with a glass of alcohol.
'Did you ask permission from the club when you left holding this glass?' he asked.
'That might have been one I took to the club,' replied the Ocean's 8 star.
And the other time?
'I took that back to the hotel that I took it from,' she explained of her Balenciaga and Chardonnay combo while walking out of a fashion show.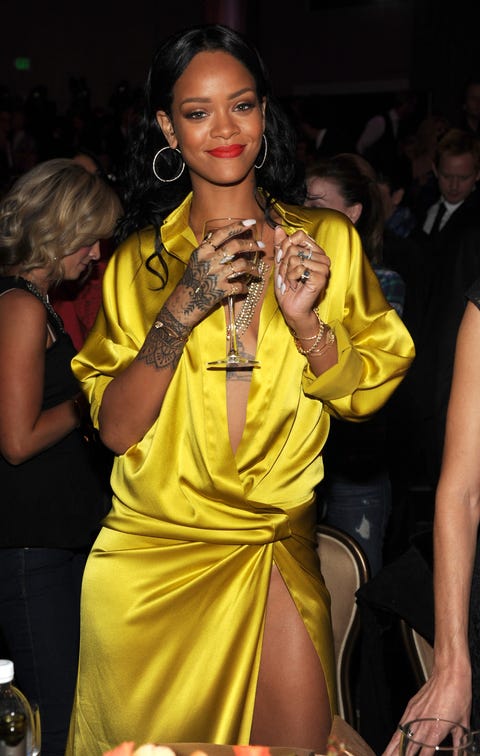 After being shown several more examples of her stealing glasses of wine and bottles of alcohol from nights out, Rihanna laughed and said: 'My mum is gonna see this.'
Tell that to the judge, RiRi.
During the interview, Rihanna chatted with her heist film co-stars and playfully shaded Helena Bonham Carter's fashion choices.
Sitting alongside her cast members, including Sandra Bullock, Cate Blanchett and Sarah Paulson, Rihanna joked that Bonham Carter had never been invited to the annual Met Gala because of her fashion taste.
Who woulda though I would live to see Rihanna playfully shade Helena Bonham Carter's fashion choice. pic.twitter.com/N9npE3JE8I

— Svpermodel (@svpermodel) June 16, 2018
BY KATIE O'MALLEY
This article originally appeared on elle.com